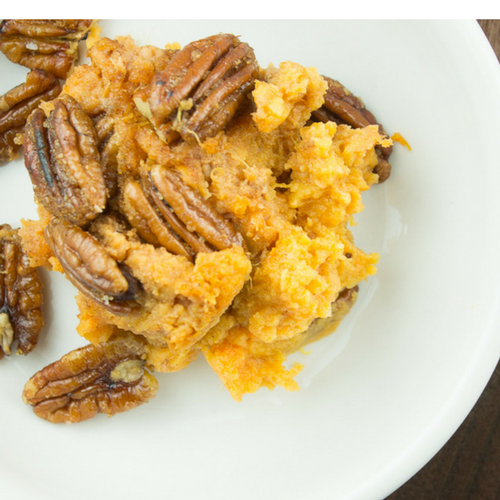 Paleo Sweet Potato Casserole
6 medium-sized Sweet potatoes (peeled and cubed)
1/2 cup Coconut milk
2 tbsp Coconut oil (melted)
2 tbsp Orange juice
1 tsp Ginger (grated)
1 tsp Cinnamon
pinch Salt
Topping:
1 cup Pecans (raw)
2 tbsp Maple syrup
1 tbsp Coconut oil (melted)
1 tsp Cinnamon
1/2 tsp Sea salt
Instructions
Preheat oven to 350 degrees F.
Put the potatoes in a saucepan and over with cold water. Bring to boil, reduce to a simmer, and cook for 10-12 minutes, until tender. Drain.
Transfer potatoes to a large bowl and mash well with a potato masher. Add the coconut milk, coconut oil, orange juice, ginger, cinnamon, and salt. Mix well, and spread into a casserole dish. Combine the ingredients for the topping in a bowl until pecans are well coated. Spread them over the potatoes and bake for 15 minutes.