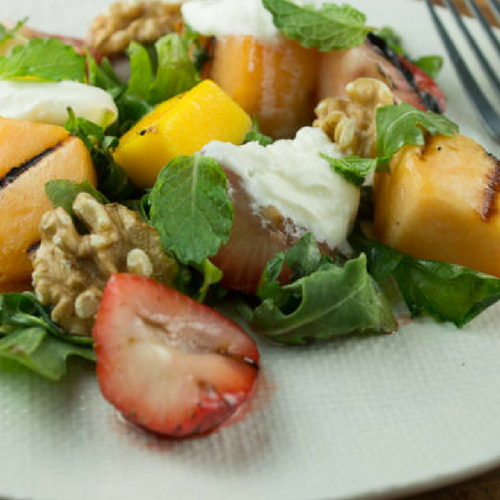 Grilled Fruit Salad
2 ripened peaches pitted and cubed
1/2 pint Strawberries hulled and halved
1 Mango peeled, pitted and cubed
1 cup cubed cantaloupe
1/2 cup toasted walnuts
1/4 cup Coconut cream thickened cream on top of a can of coconut
Juice of 1 lime
Fresh chopped mint for garnish
Instructions
Thread the fruit onto skewers to make grilling easier.
Preheat a gas or charcoal grill to medium heat.
Grill the fruit for several minutes, until charred and lightly caramelized.
Remove from heat and transfer to a bowl with the walnuts.
Divide between plates.
Whisk the coconut cream and the lime juice together and top the salad. Garnish with mint leaves.